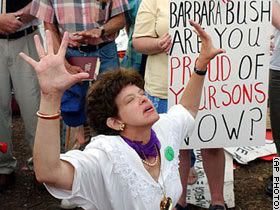 (ATLANTA :: 29 September 2008) - Take a break from the financial disaster we are in for a moment. I learned a scary thing today - one of many that we can't lose sight of when we go to the voting booth.


We are in the midst of an attempted religious hijacking of American politics from pulpits across the country.

We don't need more examples of this than McCain's choice of Palin; she's fired up the conservative base of the party. But
here's a clear one
in case you do. Many people have expressed concern about her
freakishly conservative religious views
that could be a "heartbeat away" from the presidency.

Are we open to that idea? Absolutely NOT.


A group of pastors
are going to intentionally violate tax law and endorse McCain - the same candidate who called Jerry Fallwell an "agent of intolerance" and then a few years later embraced him and spoke at his school. (The self-proclaimed "Maverick" is a shape-shifting neo-con cypher that is a shadow of the shadow he used to be back in 2000.)

Still more dangerous is the Alliance Defense Fund (link intentionally omitted), a group that is poised to defend these pastors in court as they attempt to shape the campaign from the pulpit.

So, let me understand: you're going to break the law and then ask us to foot the bill when you are taken to court? This is not civil disobedience - you are BREAKING THE LAW. Equally bad is that you're pushing your religious beliefs in the public sector and our Constitution says it's wrong.

Let your parishioners make up their own minds and stay out of the process. Your job as spiritual adviser and advocate does not make the podium on which you speak a political bully pulpit.

Allow this trail of religion to inject itself and you'll see Roe v. Wade blown up... and our Supreme Court will start looking more like an Evangelical revival than a respected judicial body.

We can see how well we do when we see ourselves as the
chosen ones
. Vote Obama and quite literally block this delusional world view from infecting our political system.


(Image courtesy of DailyKos)


# # #